The Literacy Exchange: One Model for Collaborative Professional Learning

Our Middle School English department recently joined two other international Middle School English departments for our 3rd annual Literacy Exchange. Our mission: To facilitate sustainable, meaningful, and affordable professional development designed for teachers by teachers.
It all started over four years ago when our three department heads met each other in NYC at one of the amazing Reading and Writing Summer Institutes put on by Columbia Teacher's College. They began meeting online a few times each year to share and collaborate. Eventually, the idea to bring our departments together for a two-day-home-grown learning experience was born.
Because we were designing the learning for our teams, we were able to create relevant learning experiences for our teachers based on their strengths and areas for growth – much like we do for our students. The first year we had a strong focus on conferring with readers. We had a day of study and then a day of practice mixed in with reflection and sharing tools. The second year we focused on nonfiction reading with the framework of text sets. Once again, we had a day of study and then a day of practice in classrooms and study. As we prepared for this year's Literacy Exchange, we all felt our teachers were ready to be pushed into more hands-on practice.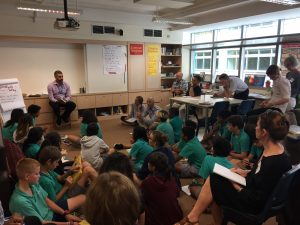 So this year, we had a "Lab-site-palooza." Day one we had three lab sites: one to model a read aloud and small groups, one to model a mini lesson and small groups, and then finally one for teachers to practice either the read aloud or the mini lesson and small groups. The next day, teachers had two more lab sites to practice.
We wanted to make sure that each teacher was able to practice the skills that built on their strengths but also pushed them to their next steps in revising and refining their practice. One of our team members, Scott Riley, drafted a self-assessment learning progression for teachers to use to reflect on their skills and practice as literacy teachers. As a team, we revised the document so it better matched the work in each of our schools. Teachers used this to reflect and then set a goal for the two days of the Literacy Exchange. They found a goal partner from their own school to share and coach each other into how they would work towards this goal.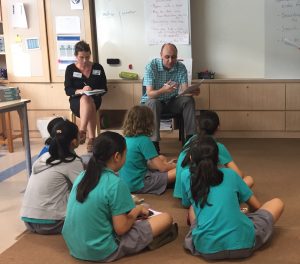 Then, throughout the Literacy Exchange, teachers used their goal to frame their observations and their practice. Before each practice lab site, they named their goal to their team and asked them to watch for specific skills or behaviors to give feedback on afterward. We framed our feedback conversations on the structure of a research-decide-compliment-teach conference.
We wrapped up our time together with some independent, reflective writing and then brief celebration with a popcorn share. Each teacher shared out with the group a specific compliment for their lab site partner. It was so fun to see teachers' smiles as their partner named their intentional work toward their goal and how they had grown in their practice.
The team is now looking to next year and coordinating school calendars to choose dates. But we are also wondering how this model could be transferred to other departments and other schools. Our conversations are focused on asking, "What are the elements that make an exchange like this work?" We are still thinking about this, but here are some of our initial ideas:
Having most or all of a teaching team participate builds momentum and increased application into daily practice. What would this look like in Elementary/Primary school?
Having a common starting point in our learning across schools allows the learning to be relevant to all participants.
Having common pedagogy rather than common curriculum allows the learning to be practical and hands on. What would this look like for Math or Science?
Having coaches who can facilitate the exchange creates a clear, focused learning experience.
While these common elements seem to be important for an exchange, we have also recognized that the diverse voices and experiences each school brings are equally important.
What would an exchange look like for your team? Who might you connect with to investigate potential shared starting points?