Using the Literacy Exchange Model to Build the Chinese Literacy Symposium
Using the Literacy Exchange Model to Build the Chinese Literacy Symposium
A few months ago Amanda Jacob, the Elementary Literacy Coordinator at Taipei American School, posted a photo to the Reading and Writing Workshop in International Schools Facebook group of their Mandarin team planning for shared reading in their classes. "It's fascinating to see how structures I use for teaching reading in English work in Chinese. These teachers found great ways to support character learning and vocabulary building." The comments started flooding in.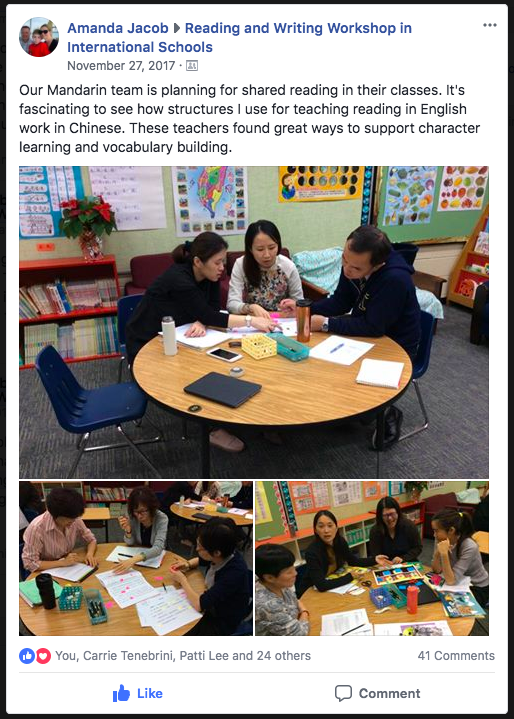 Teachers in the region had questions. Others shared how they were investigating how other balanced literacy structures traditionally used in English classes might benefit student engagement and learning in Mandarin lessons. With a nudge from Erin Kent, our friend and fellow literary coach, to bring people together to share their work, willingness to help from a few literacy coaches, and strong support from the leadership at Taipei American School, the first Chinese Literacy Symposium was born.
Amanda and I started planning together using the work from the Middle School Literacy Exchange to help us frame out the weekend. We set up a Google Site and gathered information regarding what people wanted to learn and share in connection with balanced literacy elements in Mandarin language classes.
From there, we created overarching goals.
Build community

Learn from and with each other

Create a shared understanding of workshop and balanced literacy

Make time to plan and create together
We looked back at our notes from the MS Literacy Exchange and worked to build from our reflection.
Having most or all of a teaching team participate builds momentum and increased application into daily practice. What would this look like in Elementary/Primary school?
In order to encourage teaching teams or partners to attend together, we were able to make this a free event (again, thanks to strong support from the TAS leadership). This was successful with many schools sending two or more participants, so teams were able to think together about the weekend's learning fit their context.
Having a common starting point in our learning across schools allows the learning to be relevant to all participants.
While all the participants were not coming from the same starting point with trying out balanced literacy in their context, we were within a similar band of a year or two in our work. This meant that whole group instruction was relevant and small groups could zoom in the pieces they were ready for at this time.
Having common pedagogy rather than common curriculum allows the learning to be practical and hands on. What would this look like for Math or Science?
This was true for us as the focus was the pedagogical practices of balanced literacy components and how these have been or could be used in Mandarin language classes. There were some organic side conversations around curriculum and assessment that were useful for those who wanted to think more about these pieces.
Having coaches who can facilitate the exchange creates a clear, focused learning experience.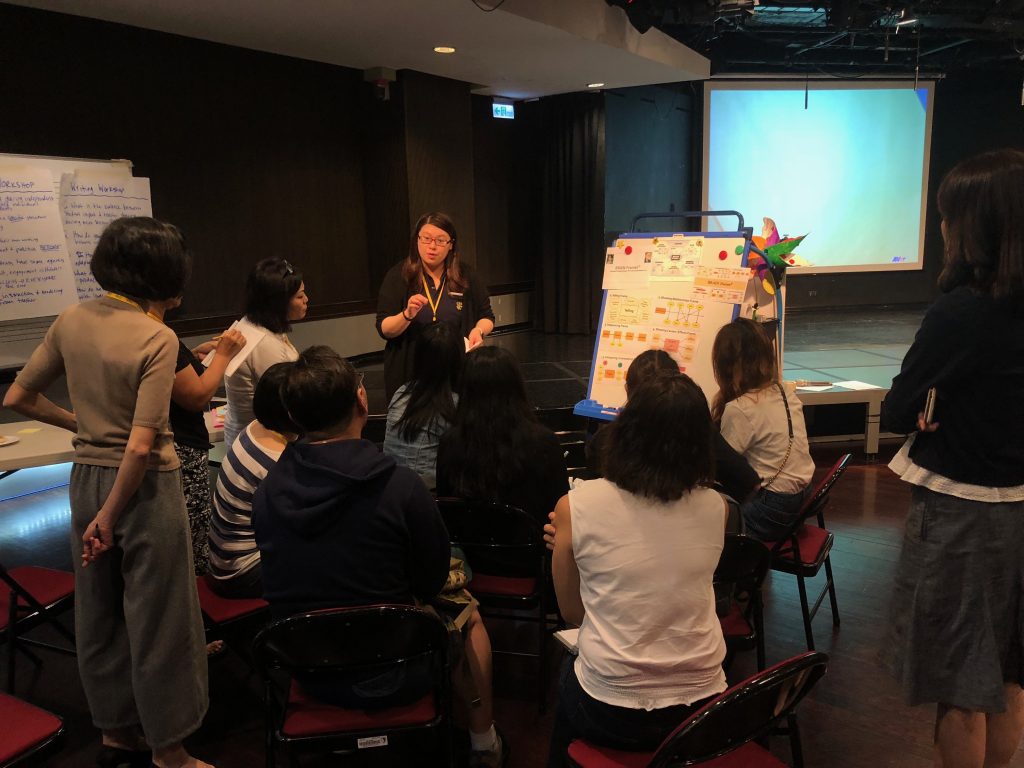 We had three literacy coaches lead whole group sessions and facilitate the learning across the two days. Then we had two additional literacy coaches help with the responsive planning and delivery of the day-two small groups based on day-one exit tickets. We also had three rounds of mini table presentations put on by the participants, so they could share their experiences with the group.
Overall, it was an exciting weekend of learning and exploring with each other. Participants came ready to learn and their noticings and questions throughout the symposium demonstrated critical and creative thinking as they considered how this learning could support students' language learning and engagement. Here are some of the things the group noticed and questions they had.
How are you addressing these ideas and wonderings in your context?