Writing in Middle School Art – Part 2
Writing in Middle School Art – Part 2
This year, the MS Art teachers have been investigating how they can better support their students as writers about art. We worked together in the first part of the year by looking at how students learn how to write other text types in English classes with the workshop model, the writing process, and the use of mentor texts. At the end of April, they invited me back to share some work they had tried and to think through some questions.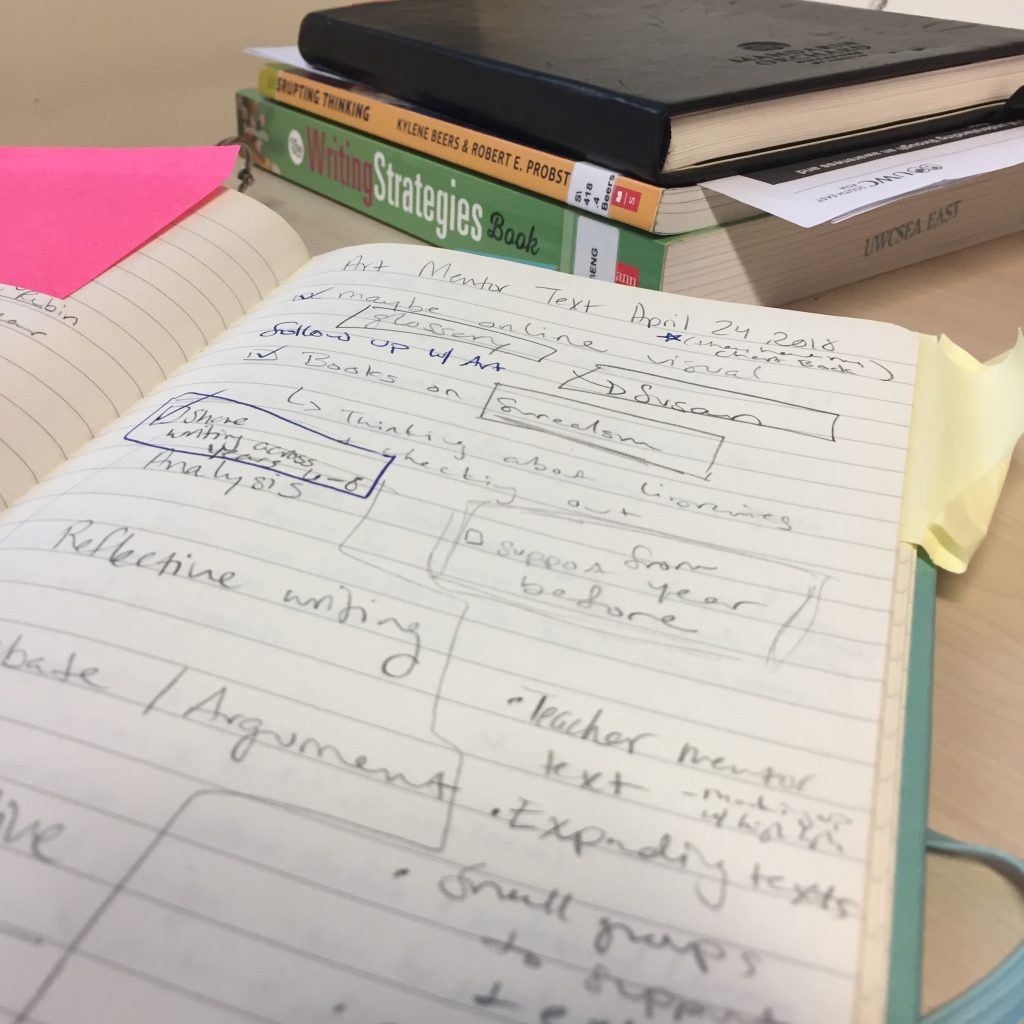 As a coach, I find these kinds of conversations fascinating but also challenging as I work to balance consulting and coaching. My school has done a lot of work with Cognitive Coaching and we have a culture of using those tools to help each other reflect and plan. But as a MS Literacy Coach, I have expertise that they are seeking to tap into as they work with their students. I have found using a notebook to jot notes and code those notes as I listen helps me sort the elements of our conversation that I should support with consulting or doing some background work for them and the elements I should support with Cognitive Coaching to allow them to find their own next steps. It can be easy to slip into all consulting, but my notes become a nudge to pause my busy mind as it pulls up ideas and solutions. I can then ask a probing question and move the conversation toward coaching.
As they shared the work they had done to write their own pieces as a mentor text for the students, I was thrilled to see they were thinking about differentiating this work for their more fluent writers and art thinkers by providing some high school student samples. I was then able to paraphrase and ask probing questions to help them identify additional strategies to support those students who might find this work challenging. Some of their ideas included creating additional teacher models with simpler text, marking up mentor texts with highlighters and labels for students to refer to when they are writing, planning for small group instruction, and creating charts to hang in the room with steps and key terminology.
That is a lot of new thinking! I ended our meeting by summarizing the key points, naming my next steps and the new ideas that they wanted to consider. I look forward to seeing how these creative and thoughtful teachers take the strategies we use in English and revamp them for their art students.